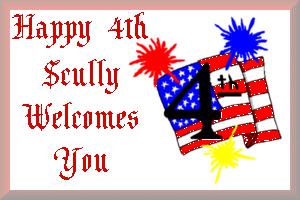 Happy Fourth of July to all of my furrends.
I sure hope you have a great and safe holiday.
At our house on this summer holiday
we will be eating a lot of good foods
that my Paw cooks outside... Purrrrrrrrrrrrrrr
He is a great cook and he always thinks of me.
I know there will be enough for all of us.
After the cookout we will play games,
visit with the family and watch the fireworks.
My silly brofur hides under the bed and misses them.
I sit on the window and see all of the pretty lights
hear the big booms and enjoy my holiday
like a big, brave girl!!!
Purrs and Paw Pats...
Scully